In a historic move, the United Auto Workers (UAW) union has launched a strike against all three major American automakers simultaneously. The strike comes after negotiations for a new contract failed to reach a resolution by the deadline, impacting thousands of workers and raising concerns about the economy.
UAW's Stand Up Strike Strategy:
The strike, dubbed the "Stand Up Strike" by UAW President Shawn Fain, began at specific Midwest auto plants, including a General Motors assembly plant in Wentzville, Missouri, a Stellantis assembly plant in Toledo, Ohio, and part of a Ford plant in Wayne, Michigan. Initially involving just under 13,000 workers, less than 9% of the UAW's membership at these companies, the strike could potentially spread to additional locations.
This strategic approach aims to keep the automakers guessing about the extent of the disruption, increasing pressure on them to reach an agreement. It's a departure from the UAW's traditional playbook, which involved all union members at a single company walking off the job at once.
Unprecedented Negotiation Tactics:
Furthermore, the UAW has taken the unusual step of negotiating with all three automakers simultaneously, breaking away from its previous practice of selecting one automaker for negotiations and then applying pressure on the others to follow suit.
At the heart of the UAW's demands are economic improvements, including 40% pay raises, restoration of pensions and retiree healthcare, and cost-of-living adjustments. Fain insists that the Big Three automakers can afford these changes, especially given their soaring profits during the pandemic.
Impact on the Economy:
The strike's potential consequences extend beyond the automakers and their workers. A prolonged strike could negatively affect the U.S. economy, including factors like rising gas prices and the end of the student loan moratorium.
While all three automakers have made efforts to raise wages, the UAW argues that these offers do not adequately account for years of stagnant wages. Ford CEO Jim Farley stated that meeting all of the UAW's demands would lead to unsustainable labor costs.
Labor Strikes Across Industries: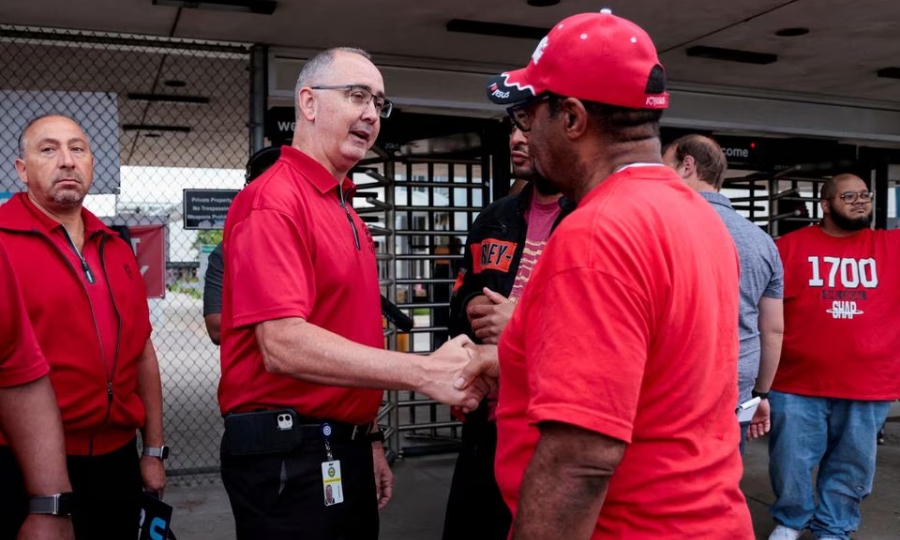 This strike is part of a broader trend of labor actions across various industries in the U.S. in recent months. Other unions have successfully negotiated significant wage increases for their members, setting a precedent for the UAW's demands.
The landscape of the automotive industry is changing with the transition to electric vehicles, adding another layer of complexity to these negotiations. The UAW is advocating for protections for workers as automakers invest more in EV production, raising concerns about traditional auto jobs.
As negotiations continue and the strike unfolds, its impact on both the automotive industry and the U.S. economy remains uncertain. The UAW's "Stand Up Strike" represents a significant shift in labor tactics, making it a defining moment for the union and the auto industry.